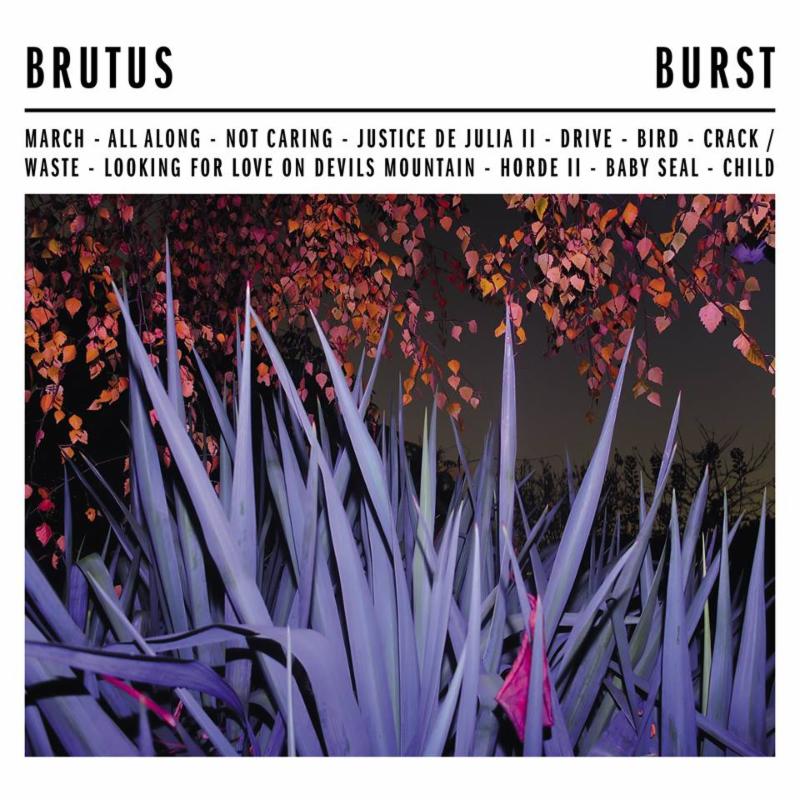 Burst 
Belgiums Brutus unleash their debut album Burst and you'll be hard pressed to find an album with such energy and vivacity this year. From the opening notes of the albums first track March, Burst explodes into life with an infectiousness that you don't find on many albums. That infectiousness continues and doesn't let up until the dying notes of the albums conclusion are emitted. 
As soon as March ends, the band crash straight into the anthemic All Along and the bruising Not Caring before the stirring Justice De Julia II (with some sublime and passionate vocals from singer Stefanie Mannaerts) shows and another side to the bands musical attack. 
The energetic force of Drive keeps the momentum on the album going even further and when the next song Bird kick in, it slows the pace right down  and gives the album a deserved chance to breath but is no less powerful than what has gone before it, quite the opposite in fact. The crunching riffs and full on rhythms mark this out as a high point on an album that is full if them. 
The energy is cranked right back up though with the jagged enthusiasm of Crack/Waste which features some brilliant playing from all concerned and continues with the gorgeous (both sonically and titled) Looking For Love On Devils Island is up next and is possibly the heaviest song on the album (check out the main riff) delivered passionately by a band who are in total control of what they are doing and it is at this point that it it strikes you wholeheartedly just how good this album is and how Godlike this band are. 
Horde II and Baby Seal follow and both are fast paced but ultimately catchy gems of songs that will take your breath away (something that happens often with this album). 
The album winds up with Child, the most expansive track on the album and the perfect way to round things off, with the only feeling of disappointment being that it is finished and it is so infectious that you will just want to put it straight back on again  and experience it all over again. 
The bands mixture of hardcore, post rock and punk all topped up with an inspiring lust for life and a knack for crafting brilliant songs results in a must listen to album with Brutus themselves demonstrating their own talents as musicians from the get go. Drummer and vocalist Mannaerts shows that she is a master of both with a breathtaking performance both rhythmically and vocally while guitarist Stijn Vanhoegaerden and bassist Peter Mulders add to the bands dynamic sound. 
Brutus have a sound that is all their own, delivered with so much passion and with Burst, they have made a defiantly stunning debut album, one that is as energetic as it is triumphant and with such a strong set of songs, the only struggle that the band will face in the future is how they will follow up such an immense debut album. 
CD / LP Pre-order: www.hellomerch.com/collections/brutus 
iTunes Pre-Order: smarturl.it/BrutusiTunes 
"Burst" Retail: smarturl.it/Brutus_Burst 
BRUTUS: 
Website: smarturl.it/Brutus 
Facebook smarturl.it/Brutus_fbook 
Twitter smarturl.it/Brutus_twtr 
Instagram smarturl.it/Brutus_insta 
Words: Gavin Brown
Via Circuit Sweet