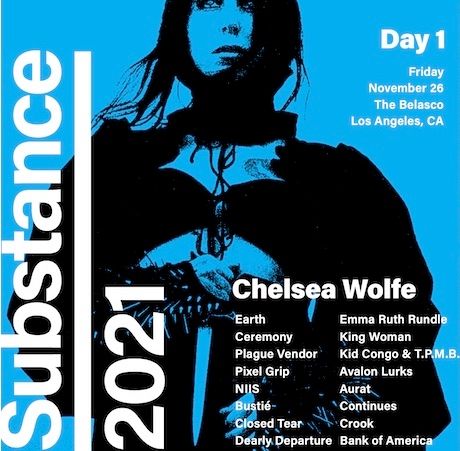 Chelsea Wolfe is headlining Friday November 26th and she will play with Emma Ruth Rundle, Earth and many more. 
Here is the full lineup: 
Friday, November 26th 
Chelsea Wolfe, Earth, Emma Ruth Rundle, Ceremony, King Woman, Plague Vendor, Kid Congo & the Pink Monkey Birds, NIIS, Avalon Lurks, Bustié, Pixel Grip, Aurat, Crook, Continues, Dearly Departure, Closed Tear, The Bank of America 
Saturday, November 27th 
Nitzer Ebb, Squid, Eyedress, Twin Tribes, Provoker, VR SEX, Nuovo Testamento, Second Skin, Some Ember, Fearing, N8NOFACE, Gel Set, Houses Of Heaven, Physical Wash, Fawns Of Love, Future Blondes, Ravens Moreland 
Sunday, November 28th 
HEALTH, John Maus, Choir Boy, Geneva Jacuzzi, Lydia Lunch Retrovirus, Riki, Pictureplane, Debby Friday, Patriarchy, Plack Blague, Lower Tar, D.I.N., Spike Hellis, Milliken Chamber, 0/X, Omen Awry, Future Of Horror 
As this is the case for all music events, Substance will require proof of COVID-19 vaccination for all attendants. Grab your single-day tickets or your 3-day passes on the festival website.