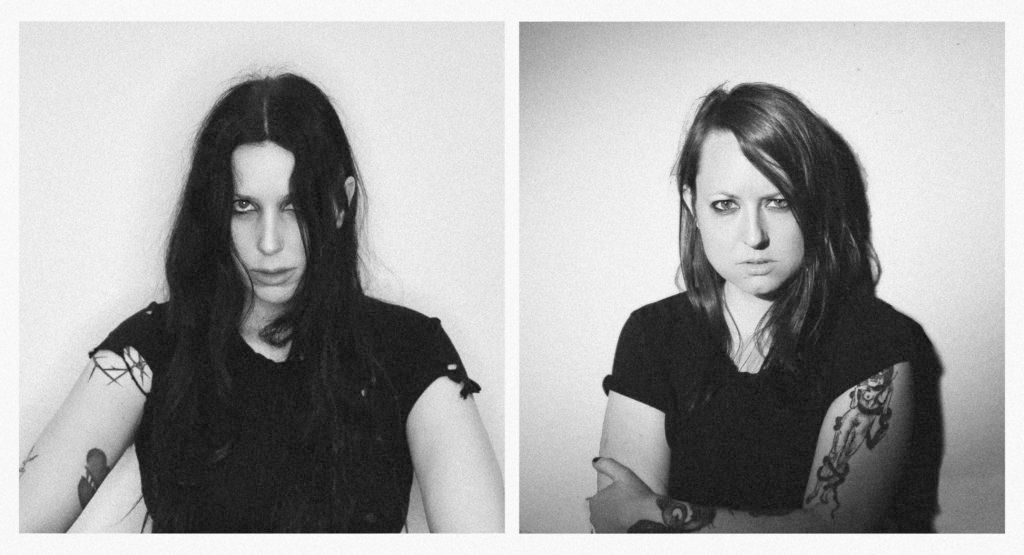 (Courtesy Of New Noise)
Mrs. Piss, the new project between Chelsea Wolfe (vocals, guitar) and Jess Gowrie (drums, guitar, bass, programming) was a way for two longtime friends and musical collaborators to get together and jam out some tunes that fell outside of their standard oeuvres. 
"Mrs. Piss sprang from a desire to have an outlet that is a little more wild and up-front than my own music," Wolfe says. "Writing songs with Jess is a lot of fun and gave me a chance to stretch my voice and guitar playing in new ways. It was also rad to see Jess jumping around from drums (her main instrument) to guitar, to bass, to adding industrial programming to the songs, and ruling at it all." 
Gowrie concurs with her longtime friend and collaborator. 
"For me, it was to try things I've never tried before, create with my friend, and drink a lot of Grey Goose," Gowrie says. 
The roots of this collaboration stretch way back for these two friends. 
"Chelsea and I used to be in a band together a long time ago (Red Host), so collaborating with each other was a very familiar feeling," Gowrie says "Her melodies have always hit me to my core, and she completely gets me as a musician and a friend. We've had a musical chemistry from way back in the day, and we have a lot more to say still. " 
They're coming together felt natural since they are so familiar with each other. 
"Yea, like Jess said we've played music together for a long time now, but there was a seven-year gap in between, so reuniting and jamming together was like a celebration," Wolfe says "The moment we spent time together and starting making music together again, our connection just came flooding back like no time had passed." 
Their debut album, Self-Surgery, out now on Sargent House, showcases the two artists pushing past their normal outputs into new realms of sonic destructiveness and experimentation. They just went with whatever felt good to them at the time. 
"We decided when we started this project that we would write whatever came naturally to us. The only goal was to try and capture our truths no matter how raw they came out," Gowrie says. "So, if what we wanted to express was done in two minutes, we didn't force anything more. By not setting any guidelines while writing, it was so freeing, and it allowed Chelsea and I to dive even deeper into our emotions and express them in a way neither one of us has ever done before." 
Wolfe enjoyed going with this freewheeling approach. At first, she had a certain idea of the project's sonic arc, but just eventually gave into the spirit of their off the cuff collaboration. She, like, Gowrie, went wherever the music took her. 
"I think in my mind when we started out, I wanted to keep it within this realm of punk and metal," Wolfe says. "But, when we started jamming, both of our 90's rock and industrial influences started coming out! So we incorporated a lot of that as well." 
The lyrics were also written in collaboration, as both artists took turns coming up with lines for their songs that deal directly with the friendship between the two artists. 
"It was about capturing our experiences being on tour together, being friends and playing music together for so many years. I kept a lyric journal dedicated to Mrs. Piss for the last three years, and sometimes Jess would say a line, and I'd be like, 'That's a Mrs. Piss lyric,' or we'd be talking and both stop at something one of us said like, 'that's a Mrs. Piss song title,' haha," Wolfe says. "It was a lot of fun coming up with the lyrics for this project. One of my favorite lines that came from Jess is 'from my spit a flower will bloom'—it totally encapsulates the energy of Mrs. Piss." 
Then there is the eye catching and provocative name of the project. Some might say they are going for shock value, but Wolfe has a well-thought-out, and feminist explanation for its name, lest anybody accuse them of doing shock for the sake of shock. It's about embracing a certain side of femininity that some want to keep repressed. 
"When we announced the project, my mom texted me and asked, 'What does that name mean?' and here's what I sent back: It's about embracing the realness of being a woman, all sides," Wolfe says. "Traditionally, women aren't supposed to talk about anything 'dirty,' so it's a bit of a punk rock middle finger to that. It's about being married to the dirt." 
So, Wolfe and Gowrie are content with their new project, which was borne in friendship and nurtured by their drives to push their own, set boundaries. But, don't think this is just a one-and-done for these two, busy musicians. They aren't going to just rest on their laurels. There is more Mrs. Piss on the way. 
"For certain, yea. We'll definitely include more womxn on future Mrs. Piss albums," Wolfe says "We wanted to establish the band as the two of us first, but we're already talking to friends in other bands about joining us for songs on the next album. We've got big plans."