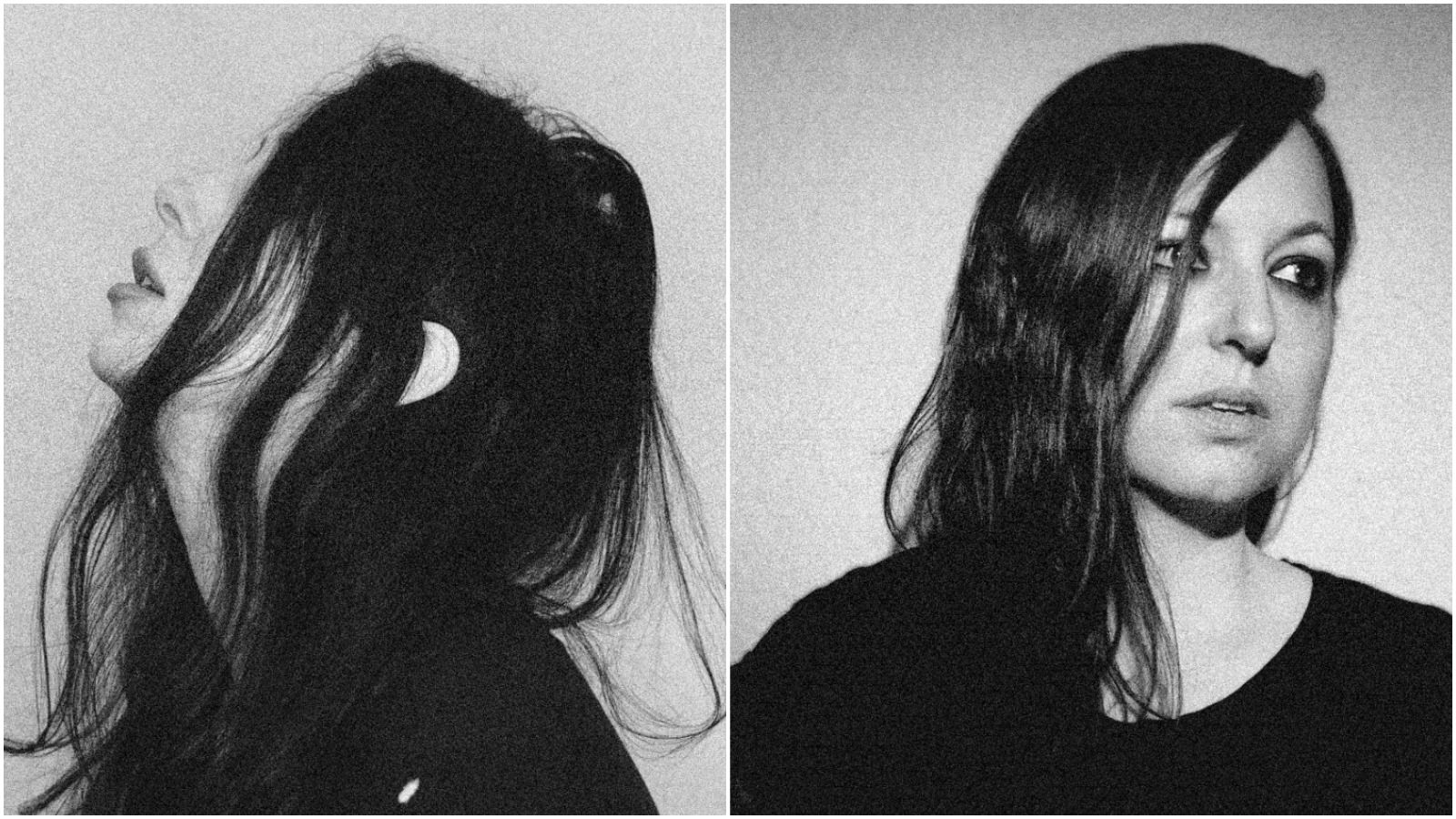 (Via Revolver)
"Mrs. Piss is very abstract, and you can interpret it in different ways," says Chelsea Wolfe of the concept behind her grungy, sludgy new side-project. "But essentially, it's like [being] married to the dirt, embracing and empowering your dirty or messy side as a woman and not shying away from that." 
"I was raised to be very modest, and not talk about any of the dirty or any of my bad experiences," she continues. "It was like, Keep it light, keep it quiet, keep it easy. As I've gotten older, I've become more comfortable being open. It still kind of scares me, because I know that opens you up for judgement from people. It's not always easy to be hella truthful about your own experiences." 
Over the past decade, Wolfe has taken listeners on an enthralling sonic journey that reflects her own personal evolution: shining light on the dark corners of her individual and familial history, finding power by embracing her feminine and masculine energies, confronting inequalities and skewering misogyny. Her songs — alternately loud, soft, ecstatic and devastating — make up some of heavy music's most exciting releases in recent years, including the one-two punch of 2017's abrasive Hiss Spun and last year's folk-leaning Birth of Violence. 
Mrs. Piss is a continuation of Wolfe's quest — a new vessel for her to explore previously tempered "wild energies." But this is not a solo excursion for the singer-songwriter. Mrs. Piss is also the brainchild of her longtime friend and world-class drummer Jess Gowrie. "We only had one rule: no rules," says Gowrie of the duo's mission. "No expectations. Do what you feel — as crazy, or not, as you want — and see what comes out." 
The result of their experiment — Mrs. Piss' eight-song debut Self-Surgery — is an unflinching assault of gnarly, punky, Nineties-inspired heaviness, which finds Wolfe drawing from events in her and Gowrie's lives: from touring shenanigans ("Nobody Wants to Party With Us") to defiant fuck-yous to past lovers ("Knelt") to processing and shedding of deep-rooted self-hate ("Downer Surrounded By Uppers"). 
It's a raw, rich expression by two seasoned pros, one that couldn't have been created without the unwavering trust between these women — who have been through the shit, both individually and collectively, and come out the other side swinging. 
Like most interesting ventures, the path to Mrs. Piss was not a direct one. To understand the project, you need to jump back to the mid-Aughts in Sacramento, California — and the meltdown of Wolfe's first band Red Host. 
Back then, Wolfe was in the early stages of getting her solo project off the ground, when she crossed paths with Gowrie. The two had an instant musical connection, and Wolfe tapped the drummer to play on a few songs. The young singer was still refining her craft and becoming frustrated with her "writing style, lyrics and voice," so she shifted focus and joined Gowrie in Red Host. 
Wolfe describes Red Host as her first "serious" band and reveals working with Gowrie provided her with a couple key building blocks that would inform her later musical expressions. She credits the drummer with turning her on to a lot of 90s bands that she initially missed (like Marilyn Manson and Queens of the Stone Age), and, maybe more importantly, helping her find the confidence to become a bandleader. 
"She was always encouraging me," Wolfe recalls. "I was the only guitar player in the band, and she would be like, 'Why don't you play a lead or something?' She essentially helped me to become a good frontperson, which I took with me in my solo project after Red Host." 
While the pair had a strong start in Red Host, inter-band tensions ultimately threw a wrench into the works and Wolfe abruptly quit the group. "Looking back I would definitely do it in a different way," she says. "I didn't have the life skills to do that in a cool way, so I just let it all build up and freaked out and was like, I gotta leave the band!" 
The nature of the split caused a serious rift between Wolfe and Gowrie, and for the next seven years the musicians had no contact with each other. Wolfe advanced her solo career with records like The Grime and the Glow, Apokalypsis, Pain Is Beauty and Abyss, while Gowrie performed in various rock and sludge acts including, I'm Dirty Too, Happy Fangs and Horseneck. 
It wasn't until a fated encounter in 2014, at a mutual friend's New Year's Eve party, that their orbits once again intersected. "I was nervous," Gowrie recalls of that meeting. "But it was like no time had passed … We talked the whole night and it was so rad." 
The reconciliation revived the pair's creative chemistry and Wolfe invited her to join the writing sessions for some "heavier" songs that she was developing with collaborator Ben Chisholm. The results were so potent that Wolfe knew they "needed to play together full time." She invited Gowrie to join her band, the drummer accepted, and the songs they were working on became Hiss Spun. 
The success of that powerhouse record catapulted Chelsea Wolfe onto bigger stages than ever, and the group embarked on an extended tour that saw them opening for acts like A Perfect Circle and Ministry. The long stretches on the road further cemented the bond between Wolfe and Gowrie. 
"We had a lot of wild experiences," says Wolfe. "We ended up being the ones up the latest, listening to music, having a good time, trying to get everyone to party with us." She laughs. "A lot of times we'd fail to get anyone to hang out with us and party with us." (They chronicle these nights in Mrs. Piss' hypnotic, driving "Nobody Wants to Party With Us.") 
While the pair shared plenty of good times, they also contended with some old-school gender-discrimination "bullshit." These experiences ignited a desire to create an outlet where they could vent their anger outside of the Chelsea Wolfe band. Enter Mrs. Piss. 
"As women in music — and in general — you put up with your fair share of bullshit," says Wolfe. She reports that while she's seen things change for the better and "dudes are a lot more respectful," the industry still has a long way to go. "When we did our first soundcheck [opening] for Ministry, everyone was onstage talking about tits and ass," she says. "Then they saw me and Jess and they were like, 'Let's keep it cool, guys.'" She laughs. "People are making an effort, but there's still times ..." 
"For the most part it was awesome, but you obviously have rough times. I wanted to express this frustration … and it came out in riff form," adds Gowrie, who also contributed guitars, bass and programming to Mrs. Piss. "It was really therapeutic." 
By their own admission Mrs. Piss is a direct extension of Wolfe and Gowrie's friendship, the foundation of which is the unshakable personal trust earned over years of their shared experiences. "Jess is someone who I can write something shitty in front of and not be embarrassed," Wolfe says. "I can be myself and try out different stuff and I know she's not gonna judge me or talk some shit." 
This dynamic allowed Wolfe to unleash some of her wildest and angriest vocals ("I was listening to a lot of Babes in Toyland and L7") and most personal lyrics yet. She's especially proud of "Downer Surrounded by Uppers," pointing to the noisy, propulsive track's unhinged final scream ("I was channeling something or exorcising something") and themes that address the corrosive self-hate she experienced as a young adult. 
"In high school and in my early twenties, I hated myself and the way I looked and how I felt in my own body," she says. "Unfortunately, I got into cutting and burning myself … with cigarettes. I wanted someone to want me — but when someone was into me, I was disgusted with them because I hated myself so much. Like, What is wrong with you, I'm such a piece of shit." 
Through a lot of self-reflection and healing, informed by her personal practice of witchcraft and the tarot, Wolfe arrived at a profound realization. "We are the only ones that can heal ourselves," she says. "Whether you're looking to a higher power, or a power within yourself or whatever, it's not until you're ready to admit that that you can heal. I took a lot of time to focus on that in 2019." 
Wolfe further explores the idea of healing oneself on Self-Surgery's title track. "You have to pick yourself up and be your own nurse sometimes," she says. "I think that applies to everyone, but especially women. And when I say women, I'm spelling it with an 'x' because I want to be inclusive." 
While Mrs. Piss initially started as a purely creative outlet for Wolfe and Gowrie — they were even toying with the idea of releasing it anonymously — its vision has grown. They now see it evolving into a collective-style outfit that will include the fiercest women and non-binary people in their musical and artistic networks. 
While they're keeping the potential roster secret at the moment, Mrs. Piss give an overt shout-out to their squad — the "mega babes of the wild order" — on Self-Surgery's "M.B.O.T.W.O." "It's this rad group of friends we have, these rad babes around the world, that are wild creatures that have taught me a lot," says Wolfe. "It's gonna be fun to make the next record for sure and include more people … the mega babes!" 
While California's current social-distancing measures in response to COVID-19 have required the pair to adjust its working routine — Gowrie is in Sacramento, while Wolfe is secluded in her home in the mountains two hours outside of the city — the musicians are keeping busy. They've already started demoing new material for the next Chelsea Wolfe band record and are kicking around some new Mrs. Piss ideas. 
Distance aside, Wolfe and Gowrie are optimistic about the future of their projects and resolute in their creative partnership. As our conversation concludes, they circle back to the concept of trust — and how it will continue to lead them into whatever exciting musical realms lay ahead, pandemic be damned. 
"[With] all this history since 2015 and starting Mrs. Piss … Chelsea champions me to continue to write and try new shit," says Gowrie. "I've never worked with anyone that I've trusted as much." 
"We're just Golden Girls in the making," Wolfe says with a laugh, as she recites the Eighties sitcom theme song: "'Thank you for being a friend ...'" 
"I can't even name them," she continues of the silver-haired women of the show, "but Jess definitely could ..." 
"We're all of them ..." adds Gowrie, laughing, as Wolfe finishes her sentence: "… rolled into one."